When Trevor blogged about Scotland a while back, I kicked myself that we hadn't thought of it as an HSSSS topic.  Today when he suggested this as our topic du jour, I jumped at it as my chance to tell you about how Edinburgh became "my hometown."  Brace yourselves, it's going to be a long, bumpy ride!
Here is how Scotland happened.  It was my sophomore year of college. I was sitting in a required art history class watching slides of European architecture and feeling sorry for myself about a very unpleasant ex-boyfriend situation I had going on, when it hit me. I should study abroad! I went almost immediately to talk to my advisor about it and find out if it was even possible for a physics major to do that. He didn't know. No one had ever tried. But he sent me to the study abroad advisor, and she gave me piles of information about universities in Scotland (and Australia, but they never stood a chance). I know now that these circumstances were entirely orchestrated by the Lord, because it was so out of character for me to pursue something that wasn't the normal, expected thing for me to do.
I continued to push doors, and doors continued to swing wide open.  I recorded the whole process and all my to-do-lists in this little notebook because I was just that nerdy organized.


And in October 1997, days before my 20th birthday, I arrived in Scotland and my life changed forever. My arrival was less than smooth. Having been told that my ATM card would be accepted there, I took only enough cash for my train fare to Edinburgh. It was a full week before I found the *one* ATM in Edinburgh that did accept my card. I only made it to my dorm room by the kindness of strangers who offered their help when they saw me standing teary-eyed, exhausted and terrified in King's Cross Station in London.
When I got to my room, I cried and cried and drank tap water out of my hands from the sink in my room as though I had just walked across the desert to get there. (With one pound to my name for the forseeable future, I hadn't wanted to squander it on a drink for the 6-hour train journey.) And I felt a profound sense that God was with me, that He had led me there, that He was bigger than the distance I was from home, and realer than He'd ever been to me before. I was peaceful, and so, so excited to see what was in store for me.
In spite of living on two meals a day in the cafeteria until my money situation was sorted out, I was in love. I immediately started compiling this list (unless you have really good eyes, you'll probably want to click them.)


Less than half way through what was supposed to be a ten-week term, I was on the phone to my advisor back home to find out if I could stay the year. Everything about this country had stolen my heart. The people, the accents, the smells, the cool damp air, the oldness…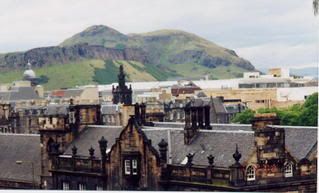 And all of that was before I even met this fellow:
(This was, of course, before he had his faithful built-in barber!)
Trevor and I didn't become friends until about a month before I had to go home, and the story of our courtship and marriage is one for another post.  In September 2000, after two years back in the States and a few months in England while Trevor completed his internship, I returned to my favorite city in the world, this time as a young wife.  Working and keeping a home in Scotland opened my eyes to aspects of the culture I hadn't really come across before.  I met real locals now, not just University students who mostly hailed from England or Northern Ireland.  Every day of going to a mind-numbingly boring temp job seemed like an adventure and a page out of a fairy tale.  In the six years I lived there, that feeling never completely wore off.
We moved out of the city centre in 2001, and found ourselves even deeper into "real" Edinburgh.  The more I came to know its people, the more I realized that underneath the accents and cultural nuances,  people were just people.  They had the same problems and temptations as people at home did. Our dear friends at church knew the same Lord and Savior that I knew, and loved Him probably even better.  It was home, and I could have stayed there forever.
The Lord did move us on, and I have never once regretted our decision to move to the States (though, I'll admit, writing this out has made me more homesick for Scotland than I've ever been since moving back here.) Living abroad took me outside of myself. It showed me things about my own culture (who knew America had a culture?) that I would never have seen from home. It taught me that God is gracious and present wherever there are men for Him to bestow His grace on, and that His creation is so much more incredible and diverse than I ever knew. Oh, and I got to bring back some pretty incredible souvenirs, too.
(Speaking of him, he says this.)