My plan for Easter Monday was to take my time putting the house back together after the holiday weekend and getting everyone ready in time for my dear friend Jen coming for lunch. My water heater, however, had other plans. On Friday night we were all snuggled up to watch Lost on DVD, when we heard an unusual sound coming from the heating closet. It was leaking, but we didn't worry at first, just switched off the hot water and got back to our date night. Since it was Easter weekend, we were out so much that we hardly missed having hot water. We just quietly hoped that, like so many other things in our home that have almost gone wrong, it would just sort itself.
On Sunday afternoon, I asked Trevor, "Can we just switch the hot water back on so I can run the dishwasher?"  We both thought it would be fine, just for a couple of hours, but no, lots of leaking right away, quick-switch-it-back-off type situation.  So, reluctantly, we came to the conclusion that I would have to call someone first thing Monday morning.
I must say, we both felt such a peace about this huge expense cropping up so unexpectantly. The Lord has been so faithful in the finance department lately. We were spared a huge expense on our heater about a month ago when a very inventive repairman managed to fix it with a pair of pliers. Also, thanks to a complicated set of circumstances, we recently had a large pay out from a fender bender which we had no intention of using to fix the car in question (only cosmetic damage.) So, the Lord really went before us on this one, and as much as we had other ideas of how to use that check, we want for nothing.
Little did I know when I called the heater people at 8 AM in my PJs with morning breath and only two of the girls even awake let alone dressed or fed that they would (for once!) dispatch someone "within the half hour" and that my home would not be my own again until four and a half hours later, after having this new family member installed.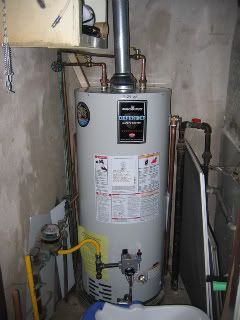 Having no hot water and a stranger in your home doesn't really facilitate a whole-house clean-up, but I managed to get it together enough that I wasn't embarrassed for Jen to see it when she got there. After all, she was here to see me and the girls, drink coffee, and feed us gooey brownies, not to inspect my home for dust bunnies. (Goodness, I hope so anyway!)
And all that we did! It was a lovely afternoon. The girls (even Pippa) indulged us by taking lovely long naps in the afternoon leaving us to ponder deep philosophical issues like debt, birth control, dating, marriage, homeschooling, and most of all the things of the Lord. Seriously. Over coffee! What a joy it is to spend time with friends who lift my eyes up to Him, and she always does.