For obvious reasons, our topic du jour is Easter.  Why not see what he says first for a change?  Go ahead.  I'll still be here.
Oh, you're back already?  Okay, let's get started then.
Easter, like most holidays, was a pretty big to-do in my home growing up.  Lots of this sort of thing.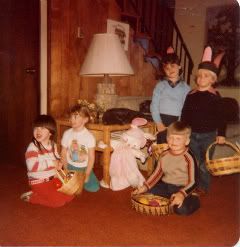 And indeed, there is still a healthy dose of family tradition in our Easter festivities now. Today we were at Grandmom's for egg-dying, with Mary, of course, who has has come every year for a very long time (even some years when I couldn't make it to the festivities while I was in Scotland).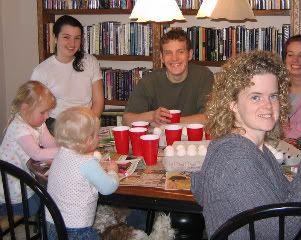 (Congratulations, Paigie, on your first appearance on my blog!)
I was pleasantly surprised this morning at the effort that was made at our church's children's Easter party to keep the focus where it should be.  Sure, there were some eggs, and there was some candy, but there was also a lesson about the resurrection, as well as this craft.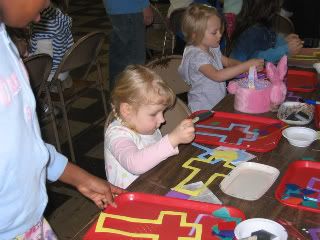 We have tried to read the resurrection story to the girls in as many different children's Bibles as we could over the past few days, but I daresay the meaning of this holiday has still been somewhat eclipsed by Easter egg hunts and jelly beans in the girls' impressionable young minds. Next year, I think we will have to try something different. Maybe something like this idea Amanda had of having a separate springy party a bit before Easter.
Just so the point is not missed here, this is what Easter is all about.
Luke 24:1 – 12
But on the first day of the week, at early dawn, they went to the tomb, taking the spices they had prepared. And they found the stone rolled away from the tomb, but when they went in they did not find the body of the Lord Jesus. While they were perplexed about this, behold, two men stood by them in dazzling apparel. And as they were frightened and bowed their faces to the ground, the men said to them, Why do you seek the living among the dead? He is not here, but has risen. Remember how he told you, while he was still in Galilee, that the Son of Man must be delivered into the hands of sinful men and be crucified and on the third day rise. And they remembered his words, and returning from the tomb they told all these things to the eleven and to all the rest. Now it was Mary Magdalene and Joanna and Mary the mother of James and the other women with them who told these things to the apostles, but these words seemed to them an idle tale, and they did not believe them. But Peter rose and ran to the tomb; stooping and looking in, he saw the linen cloths by themselves; and he went home marveling at what had happened. 
I chose Luke's account because I could really relate to the apostles when they first heard this story. Isn't that just what it is to us now if we let it become that? A story? An "idle tale" that we pull out once a year in the name of tradition?
Thank God for Peter, who immediately knew that it wasn't just a story. That if it was true it was the most important event ever to have taken place on this earth. God Himself came to earth, lived a spotless, perfect life, and was killed by sinful man. In doing so He somehow, by God's incredible grace, bore the weight of my sin, and died the death that I should have died as the penalty for my sin against God, so that I could receive what only He could deserve: an eternity to enjoy God and His Heaven.  And Christ proved every claim He made when He rose from the dead.
Would I have been like Peter and run for that tomb already rejoicing in my heart for what I knew I would find there? Maybe not. It might have sounded like an idle tale to me, too.  But by God's grace, I know that it is not just a story, and as we remember the resurrection especially tomorrow, I pray that God will impress on my heart the weight of what was accomplished on the cross that day long ago.