Last night was just one big party for the girls, with lots of firsts.  For months we've been preparing the big girls that baby Bea would be moving into their room, which would mean everybody moving up into a "bigger" bed.  With colds and visitors and a half a dozen other things finally behind us, we took the plunge last night and moved Bea out of our room – hooray for being able to read in bed again!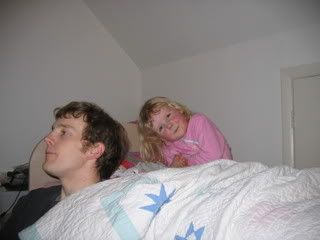 (Bible story before bed.)
So now, Pippa sleeps in her proper big girl twin bed that Pop-pop built. Pippa has been taking naps in an identical twin bed in the playroom for a while now, but she told me last night, with much trepidation in her voice, "Mommy, I feel happy about sleeping on a big bed in the playroom, but I feel sad about sleeping in this bed. This is different." So we had a long talk about things that were once different to her that have turned out to be very good indeed (ketchup on fries, new baby sisters, that sort of thing). Then for the icing on the cake, I told her that Aunt Chelsea and Aunt Olivia used to sleep in this very bed when they were little. She was sold, and we didn't hear from her again until after 7 this morning.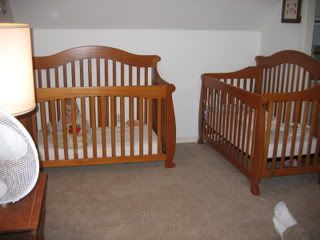 Romilly was supposed to be moving into Pippa's toddler bed as part of this ginormous all-in-one transtion, but we chickened out and put the crib side back on it. She's just not ready to have that kind of freedom yet (read: we'll never get another night's sleep once both of them are free to move around in the room at night!!!) Happily, she still calls it "Pippa's bed" and feels very pleased with herself for sleeping in it, even though the only difference from the identical crib that Bea is now sleeping in is that the mattress is on a lower setting.
As for little Miss Trix, she is clearly delighted with the move.  What could be better than having cribside entertainment while drifting off to dreamland?

Now we just need to decorate.  The plan was always to pink it up once we knew for sure that our "new" little one was a girl.  Where did the last (almost) eight months go?