Ephesians 5:22 says this:  "Wives, submit to your own husbands, as to the Lord."
Apparently, this is not a popular sentiment these days.  I think it sounds pretty good (in theory).  After all, check out the husband's job description in the verses that follow: "25 Husbands, love your wives, as Christ loved the church and gave himself up for her, 26 that he might sanctify her, having cleansed her by the washing of water with the word, 27 so that he might present the church to himself in splendor, without spot or wrinkle or any such thing, that she might be holy and without blemish. 28 In the same way husbands should love their wives as their own bodies."
Okay, where do I sign up for that submission deal, now?  Right?
Most of the time, submitting to Trevor's authority in our family is pretty easy, and I like to think I'm getting pretty good at it.  Recently we've been having  a thing, though.  Since we moved to America over a year and a half ago, Trevor has flat out refused to get his hair cut.  He no longer has a barber he knows and trusts, and 'why waste all that money?', he says. He's had one haircut from my dad, one from his sister when we went to England to visit them, and the rest have been from a very reluctant me.
Why reluctant? you ask.  Well, I just can't handle the pressure!  I've given him near bald spots a couple of times and very regularly cut it shorter than he likes it, and I hate to disappoint him.  Maybe, I suggest, if you just went to a barber just this once, then it would be nice and even so that I can see what I'm doing better next time?  Nope.
So this time, we had a little bit of a stand off.  Partly because we've just been busy and it's been too cold to cut it outside like I usually do, but partly because some small part of me was holding out hope that eventually he would just give up waiting for me and go get it cut.  No joy.  This is what it looked like by the time he got his way.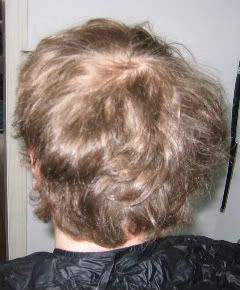 Oh, dear, dear, dear…  Ladies, let me tell you, unsubmission is not pretty, and it doesn't pay.
So yesterday afternoon, I relented. You know? It's always more fun than I remember once I get in my groove with it. I didn't do a perfect job, but I left him a little length, which he likes. I can see his eyes again, which I like (swoon!) Everybody's happy.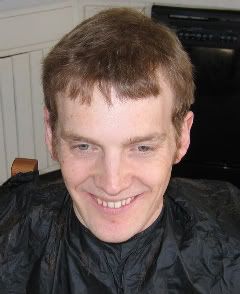 What on earth took me so long?
We looked at submission last night in my Married Ladies' Bible Study, as it happened.  (Does God do that to everyone or is it just me?)  I just love what God is showing me through this book and the wonderful ladies that lead the study.  It is so easy to think that our submission is contingent on his holding up his end of the bargain.  In submitting to a less-than-perfect husband, though, we are really submitting ourselves to God.  The author of the book says this:
"Submission is a longing after God and a willingness to allow Him to have control of everything… We develop the discipline of submission when we willingly place all our desires, wants, and dreams before God, who is then free to give us the desires of our heart."
That sounds like a pretty good deal to me.