I am happy to introduce to you what I hope will become a regular, if not weekly, feature on my blog. Since my sweet husby and I are now partners in crime in this adventure called blogging , we thought it would be fun, just once a week, to try to find a neutral topic that we can both tackle. I'm not really sure what our goal is: maybe it's a study in how the male and female minds approach a subject, maybe it will help you understand us better and us understand each other better, maybe it will just mean that we're forced to update our blogs at least once a week. Whatever the reason, today, I will take a break from babies and Bible studies and he will take a break from gardening and politics and we will meet somewhere in the middle to pontificate  separately together the topic of…
Birthdays!
This is a timely topic, since today is (one day later than usual, on account of Leap Year) Trevor's birthday. Happy Birthday, Love! A birthday is a real cause for celebration, I think. Of course, when you're little, the date of your birthday is the most magical date of all, filled with promise and excitement. I remember enjoying everything I did on my birthday as a child, even if half of the day was spent at school. I would smile every time I wrote the date on my paper (and usually had to stop myself from completing the date with "77" regardless of what the current year was). It was truly a red-letter day.
But then again, my birthday was always met with quite a bit of fanfare. I was an only child until I was fifteen, so most years, I had two birthday parties: one for family and a slumber party for friends. The latter was made paricularly spectacular by my Aunt June (Junie) who would come armed with homemade games and fabulous prizes (well, you know, a smurf figurine was pretty fabulous when you were eight) that had us absolutely giddy with laughter by the time the grown-ups turned in and left us to our own devices. We got very little sleep, , and great friendships were forged.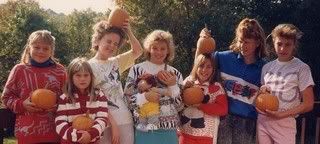 (I believe this was my 11th.  Can you tell I have an October birthday? I'm in the middle.  The crazy girl next to me holding the pumpkin on her head is Mary, who has now been my best friends for 25 years. Junie is, as usual, the one behind the camera.  The two sisters on the far left now are now both happily married and have *seven* kids between them!)
On September 6, 2004, I gave birth to my first daughter and discovered what birthdays are *really* all about. Six weeks later, when my own birthday rolled around again, I discovered that my own birthday would never involve much fanfare again, and that that was okay.   Celebrating the girls' birthdays is such a joy to me because I can look back and remember the time before their birth.  (Was there ever not a Pippa, a Romilly, a Beatrix in the world???)  I can remember the anticipation and the incredible joy of their arrivals, and I can thank God for letting me have them in my life for another year.
I am learning though, that children's birthday parties are somewhat less enjoyable than I remember them being when I was a child. Don't get me wrong, I've loved all five birthday parties we've had for the girls so far, but the ones I've been in charge of have been hard work! Pippa's first was the only one we had while we lived in Scotland, and therefore away from family, so I braved my first and only all-the-little-rugrat-friends-and-their-mommies party.

While it was a wonderful blessing to be surrounded by friends who felt like family, the dominant sentiments of the day were: 1. Why is it so crazy hot in here in September in Scotland? 2. Where did all these babies come from? Did I really invite *thirteen* babies into my home at the same time?!?  I think we might wait a while before doing the "friends" party thing again.
Today's festivities were modest at best, and I daresay the birthday boy would have liked them better even more modest.  This was the scene at my mom's house this afternoon.

We did get to spend last night at the lovely Joseph Ambler Inn where we also spent our wedding night (compliments of Junie both times – thank you so much!).  Next year is a rather bigger number that ends with a zero for him, so who knows what he may be in for then! (The same one just passed for me, and I got off pretty lightly with a smallish "surprise" gathering at my mom's house.) Pippa also helped make him this:

I'm not sure it will ever be seen in public, but perhaps it will be fun to wear under a sweater (close to his heart) and just know that he's loved.  Hope it was a good one!
Now, go see what he says about it here.  Go, go, go!