Two years ago today (give or take – we were in a different time zone), you, Romilly Alice, came bursting into the world.
It was about time. You were due (whatever that means) twelve days earlier, but I had felt quietly confident that you would arrive even before that. After all, my first baby had been on time, and it's usually the first one that's late, right? So after eleven days of waiting and feeling increasingly foolish for not having had that baby yet, I waddled into the midwife's office. "If the baby doesn't arrive by tomorrow," she told me, "we really should just check that it's still okay in there, and if you want, while you're at the hospital, they can start an induction." Well, I didn't want an induction, and apparently neither did you. The contractions began.
Two AM the next morning, your Daddy and I arrived at the hospital. I had hoped to last until 8 AM, when we had an appointment for monitoring and possible induction scheduled anyway. Wouldn't that have been handy? Once again, you had other plans. We got to the hospital at almost exactly the same time as we had when your big sister was about to arrive. She had taken another 13 hours to make her appearance from when we arrived at the hospital, so we fully expected to be in for a long night. Twenty minutes after we arrived, you were in our arms.

We were checked in to the hospital (barely) and we were holding you.  Just like that.  We were totally shell-shocked.  The extra twelve days of waiting had done nothing to prepare us for the whirlwind that was your arrival on this earth, and we just sat and marvelled.
You were not a boy, as we both thought you would be for no particular reason. And even more startlingly, you looked *nothing* like your sister. (Now people ask us if you are twins, but that night, in the hospital, you were definitely yourself and no one else.) You were probably just as startled to look up and find me staring back at you. Your speedy delivery had left me no time to put in my contacts, straighten my hair, or apply a much-needed bit of make-up for the inevitable post-baby photo shoot, so this was us: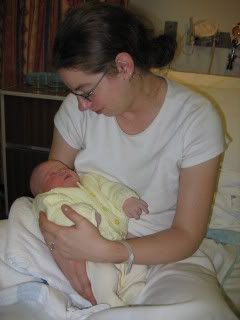 A week later you landed yourself back in hospital with RSV. It was one of the most terrifying experiences I've ever had. I worried, on top of everything else, that we would be starting all over again at finding our groove as a family when you and I got home after 6 nights in the hospital, but you were such a part of us all already. Pippa hadn't been allowed to see you at all while you were on the ward. Would she even remember that she'd had a sister? Did she think we'd sent you back for good? I tested the waters with her in the lobby of the hospital as the nurses were getting ready to discharge you. "Pippa, Romilly's coming home today!" I told her. At just seventeen months old, she only said a handful of words, but when I said that, her eyes lit up as she looked at me hopefully and signed "baby" by rubbing her tummy. You have been best friends ever since, and I have had the pleasure of watching that relationship unfold.
At the tender age of six months, you became an immigrant.  Uprooted from your homeland of Scotland, you spent the next four months of your life sharing the basement of pop-pop's house with your Daddy and sister and me.  It was there that you earned your reputation as the smilingest baby *ever*, and I know that you were sorely missed when we moved into our own home a year ago.
Your second year, too, has been full of surprises and adventures.   While most newly-one-year-olds were focussing at least some of their attention on learning to walk, you were never one to give in to peer pressure (long may it last!).  You turned your attention to other things, namely eating and talking.  Dare I suggest that you're your mother's daughter?  The day that you did decide to walk (one day before you turned 16 months old), you did it as though you'd known how to do it all along.  You did, didn't you?  (Cheeky thing!)
Now, you bring laughter to our home all day long. You have a soft heart and a sweet silly side. You make the best faces. Your Daddy and I delight in watching you become the woman God has made you to be, and we pray every day that we will do the job He calls us to do in helping to bring that about. You have been one wonderful surprise after another since even before you were born, and I am so blessed to be the one you call Mommy. I love you, my sweet girl. Happy birthday, Ro-ro!